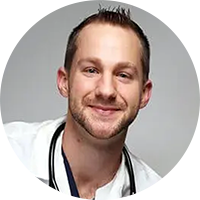 From The Desk Of Dr. Jacob Klos, DVM
They say the key to good health lies in the gut, and they aren't wrong... You'd be amazed at how many issues we see in our dogs stem from an imbalance of bacteria in their gut. Things from itching, shedding, dry skin, ear infections, diarrhea, even just bad odor can be signs that your dog's gut has an imbalance. I often try to start with a daily probiotic instead of reaching for antibiotics as this can continue to lead to a disparity in 'good' versus 'bad' gut bacteria. There is a lot of research that shows daily use of a probiotic can be incredibly beneficial for dogs, just like it is in humans! I focused on designing our Probiotic chew to not only help gut health with its 5 unique probiotic strains, but also to help overall immune health, and allergies thanks to the ginger root and pumpkin seed we included in the formula.

The most common reason I see owners bringing their dogs to my office is skin issues. Most of these issues I see stem from an underlying allergy issue. A multimodal approach can help decrease the need for frequent veterinary visits. Our Skin + Coat product has a powerful combination of salmon oil, evening primrose oil, sunflower oil and turmeric that helps heal the skin barrier and replace damaged skin cells. (+/- This can be a safer alternative to frequent courses of steroids and antibiotic medications that can carry significant side effects and risks to your pet).
What to Expect With Allergy Bundle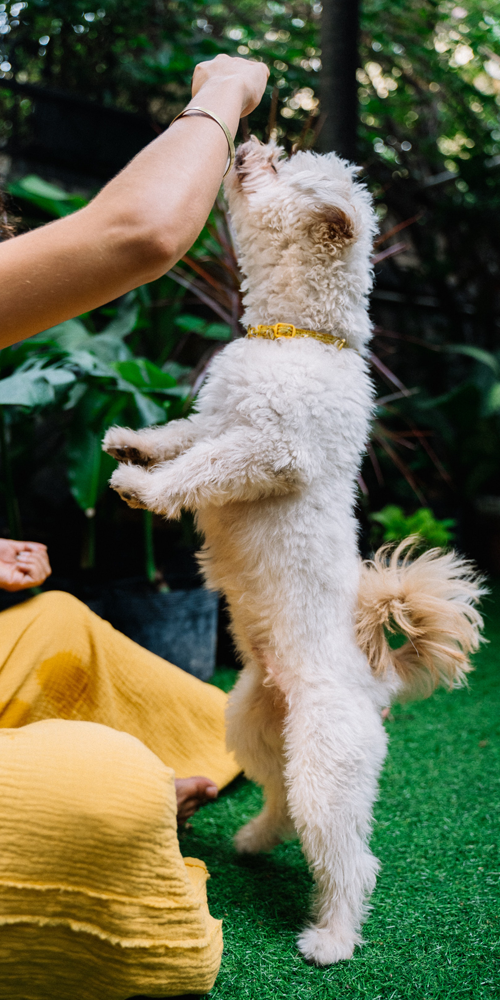 Week 1
Your dog starts their journey to better skin & gut health
WATCH FOR: Changes in behavior or appetite
Week 2
Fur and coat starting to heal
A noticeable difference in skin moisture
Less stomach issues
A noticeable difference in appetite
WATCH FOR: Less licking and scratching, more consistent stool
Week 3-4
Skin is calmed and healed
Shine restored to your dogs coat
Improved immunity leaving a healthy skin and coat
Improvement in allergies
Less itching and scratching
WATCH FOR: Allergy symptoms nearly gone, better smelling breath
Week 5+
No more licking and scratching
Fur has grown completely back
WATCH FOR: An overall happier, more youthful dog

Veterinarian Formulated & Approved

Made in a FDA Registered Facility

Third Party Lab Tested For Quality

Made in USA With Sustainable Ingredients
What Our Customers Think...
Total 5 star reviews: 6
Total 4 star reviews: 0
Total 3 star reviews: 0
Total 2 star reviews: 0
Total 1 star reviews: 0
100%
would recommend these products
Customer-uploaded media carousel. Press left and right arrows to navigate. Press space or enter to open more details.
Slide 1 selected
Probiotics save the day...and my carpets!

No more stomach issues for Dakota! Since introducing this probiotic into her diet, her digestive system has been as smooth as her belly rubs. Say goodbye to upset stomachs and discomfort! Plus, it's been a huge relief to witness a decrease in Dakota's grass-eating habits...and subsequent vomiting of the grass on the carpet inside. Who knew such a little chew could have such a noticeable impact on her overall digestion? I strongly recommend this supplement - it kicks grass!

Eric S.

Verified Reviewer

Fur-midable!

Dakota's skin and coat have received a major boost since starting these chews. It's fitting that they're heart-shaped because she loves the peanut butter banana flavor. With Wisconsin's weather, Dakota has often struggle with dry, itchy skin, but thanks to these supplements her skin is less flaky and her fur also looks shinier than ever. This product has pawsitively made Dakota look and feel fabulous!

Eric S.

Verified Reviewer

Must have for fluffy dogs.

Byron loves these skin and coat chews…like seriously loves them. He's super picky with treats so I was pleasantly surprised that he liked taking these. He has all the fluff (chow, husky, retriever mix) and his coat is naturally dry. These chews have been such a game changer for his fur. He no longer itches at his collar constantly - if you have a fluffy dog you know the collar struggle - 100% give these chews a try.

A healthier and happier dog. Highly recommend!

We tried this for our 13 year old Labrador. Human probiotics had helped me with my own stomach problems, so I figured it was worth a try for our dog. The most impressive thing we noticed is how our Winston progressed along the timeline of expectations provided by Dr. Klos. First we noticed our dogs stool getting more consistently firm, whereas he had previously had issues with periodic diarrhea. Then we noticed his breath getting less smelly, and in particular his farts, which could clear a room, also dissipated. Honestly, prior to the Hound & Co. Probiotic, his farts were so bad that even he would get up and leave the room, lol. Finally we noticed that his allergies were getting less severe, after they had spiked when we moved to Florida from Wisconsin. He is now scratching less frequently, and no longer scratches himself so hard that it created sores like he used to get. Overall he seems like a happier dog since being on the Probiotic. This again made me think about how I had felt before I started using human probiotics myself, and had stomach problems of my own, and how much more comfortable and active I have become since my own gut is healthier. Why would I not want my precious pet to feel the same.

Lucy LOVES!

This is more like a treat than a supplement. My dog loves this product and her coat feels a lot more FULL!

She get so excited when ever I reach for the jar.
Reviews Loaded
Reviews Added
FAQ about Allergy Bundle
What age can my dog start using the Allergy Bundle?

We recommend starting our Allergy Bundle on dogs older than a year. But as with any supplement, always consult your veterinarian prior to use.
What flavor are the Skin & Coat Chews?

Our Skin & Coat chews are peanut butter banana flavored! With all of our products, the flavoring comes from all-natural, vegetarian flavoring so there is no concern with meat allergies or sensitivities!
What flavor are the Probiotic chews?

Our Probiotic chews are peanut butter banana flavored! With all of our products, the flavoring comes from all-natural, vegetarian flavoring so there is no concern with meat allergies or sensitivities!
Can the Allergy Bundle be given to cats?

No, our Essentials Bundle chews are designed for use in dogs only.
How many chews should I give my dog?

Skin & Coat:
Up to 30 lbs: 1 chew per day
31-60 lbs: 2 chews per day
61-90 lbs: 3 chews per day
Over 90 lbs: 4 chews per day

Probiotic:
Up to 50 lbs: 1 chew per day
50+ lbs: 2 chews per day
When should I see an improvement?

We recommend giving them to your dog for 2-3 weeks to begin seeing noticeable improvements.