AS SEEN IN OVER 100 NEWS PUBLICATIONS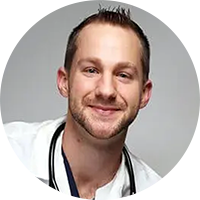 Results in as little as
3 Weeks!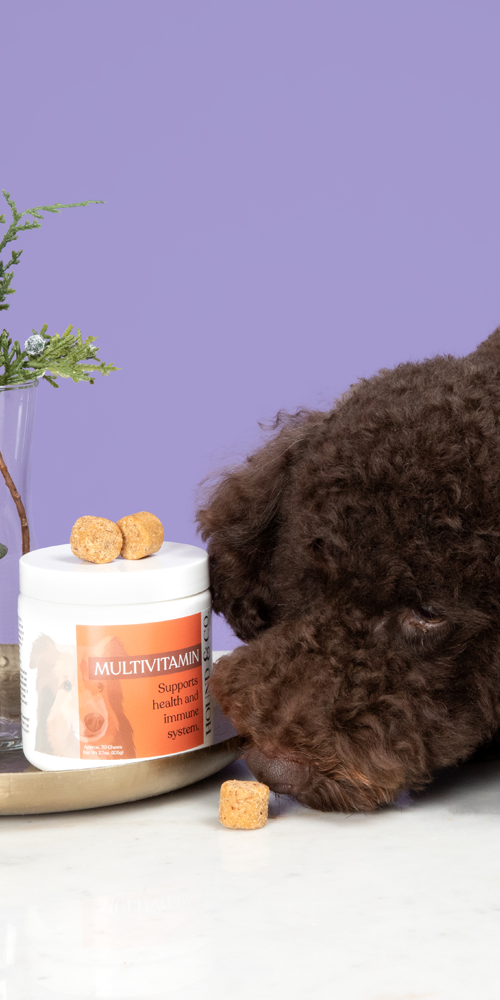 Week 1
Your dog starts their journey to better overall health
WATCH FOR: Changes in behavior or appetite
Week 2
Improvement in coat and stronger nails
Immune system starts to get stronger
WATCH FOR: Fresher breath
Week 3-4
Improvement in allergies
Better joint mobility
WATCH FOR: More energy and vitality, especially in older dogs
Week 5+
Better heart health and blood flow
Increased nutrient absorption
WATCH FOR: An overall happier, more youthful dog

Veterinarian Formulated & Approved

Made in a FDA Registered Facility

Third Party Lab Tested For Quality

Made in USA With Sustainable Ingredients
Boswellia
Acting as an anti-inflammatory, boswellia can help reduce the formation of leukotrienes in your dog, which are the molecules responsible for soreness, swelling and tenderness. This leads to better joint health and improved digestion.
Krill Oil
A natural extract, krill oil is one of the richest sources for Omega-3s available. Omega-3s help the body store energy, regulate hormones, and can lead to healthier skin and coat, improved brain development, reduction in heart disease, improved bone health, pain relief, improved liver function and can help boost their immune system!
Yucca Schidigera Root
Rich in vitamin A, B and C, yucca schidigera root has been shown to have reduced pain, inflammation, and arthritic symptoms in dogs along with decreasing plaque and tartar build up in their mouths. It is also rich in antioxidants and antimicrobials that help strengthen your dogs immune system.
Vitamin A Acetate
Vitamin A plays a vital role in the body - from skin health to eyesight, as well as growth and bone development, low levels of vitamin A can cause numerous serious health problems, including loss of vision.
Vitamin D3
Unlike humans, dogs do not process sunlight in the same manner and cannot convert it to vitamin D, so they require a little extra help consuming vitamin D. Vitamin D plays an important role in maintaining calcium levels, muscle function, bone and tooth health, immunity, as well as kidney and vision function. Although rare, ditamin D deficiency can be very serious and can cause muscle weakness, congestive heart failure or heart disease, hair loss and tiredness.
Vitamin E
An essential nutrient for dogs, vitamin E is an antioxidant that helps dogs neutralize free radicals, the cause of oxidative stress. Vitamin E promotes a healthy heart, immune system, muscles, liver, and improves skin and coat.
Vitamin C
Like vitamin E, vitamin C is a free radical, but it also can help reduce inflammation and cognitive aging. When dogs are sick or stress they rapidly deplete their bodies output of vitamin C which often leads to skin diseases. Research also shows that dogs who receive a vitamin C supplement show greater resistance to disease and recover from injury and illness better.
Niacinamide
More commonly known as vitamin B3, niacinamide can be effective in treating inflammatory skin conditions since it is a core vitamin that helps the breakdown of fatty acids which helps your dog digest healthy fats. It also improves your dogs ability to convert fats and carbs into energy, as well as nourishes his or her brain.
Collagen
Just like in humans, collagen can help dogs restore the moisture and skin health, helping promote shiny fur, healthy skin and strong nails. But also like humans, dogs production of collagen naturally dimish with age, and this steep decline in collagen can lead to aching joints, poor digestion, and skin issues.
Vitamin B1
An essential vitamin, B1 must be a part of a dogs diet for them to maintain optimal health. Low levels of B1 can cause weight loss, GI problems, and lack of apetite, or in severe cases neurological issues. This is because the brain relies on B1 to metabolize carbohydrates, which assits in proper brain function.
Vitamin B2
Also known as riboflavin, vitamin B2 helps your dog break down nutrients, metabolize fats, and create energy.
Vitamin B5
This vitamin aids in food metabolism which directly impacts your dogs energy levels. Dogs with a B5 deficiency can display loss of hair and premature aging along with lethargy.
Vitamin B6
One of the most important vitamins for dogs, B6 is vital for behavior, brain health, eye health, prevention of arthritis and more. Deficiency can cause lethargy, confusion, irritability, weak immune function, and abnormal heart rhythms.
Folic Acid
Foilc acid is necessary for metabolic functions such as red blood cell production. This vitamin is important for normal blood formation, immune function, and tissue growth.
Biotin
Commonly added to dog foods, Biotin is a B complex vitamin that promotes healthy hair and skin. While most manufacturers include Biotin in their foods, unfortunately this often does not meet their daily intake needs. Dogs with a biotin deficiency can display dry, flaky skin, hair loss, or brittle hair. In older dogs, Biotin has the added benefit of helping maintain energy levels and support nervous system function.
Vitamin B-12
Vitamin B12 helps dogs absorb the nutrients contained in their foods, leading to a better apetite thanks to digestive enzymes working properly. It also produces myelin which protects nerves, boosting the nervous system and improving brain and spinal health. Additionally it helps breakdown fats, carbs and proteins as well as boosting immunity and preventing diseases, especially those targeting the pancreas and digestive systems.
Inactive Ingredients
Citric Acid (as preservative), Flaxseed Meal, Glycerin (vegetable), Natural Peanut Butter Flavor (non-allergenic), Oats Flour, Palm Fruit Oil (organic, RSPO), Rice Flour, Sunflower Lecithin
Product Details
Description:
Our all-natural Multivitamin supplement is designed to support overall health and boost immunity in dogs of all sizes. The chewable peanut butter flavored treats are packed with with over 15 different vitamins and minerals to help support all bodily functions. They can also help reduce inflammation, strengthen gut health, and improve your dog's coat and skin!
Flavor:
Peanut Butter

Recommended Use:
0-60 lbs: 1 Soft Chew/day
Over 60 lbs: 2 Soft Chews/day

What Our Customers Think...
Total 5 star reviews: 2
Total 4 star reviews: 0
Total 3 star reviews: 0
Total 2 star reviews: 0
Total 1 star reviews: 0
100%
would recommend these products
Customer-uploaded media carousel. Press left and right arrows to navigate. Press space or enter to open more details.
Slide 1 selected
Pawsitively Vital

Oh my dog, these multivitamins have been a bone-afide game-changer for Dakota! While she is a notoriously picky eater, with the paw-some peanut butter flavor she wolfs these down like a champ. These supplements clearly pack a punch of essential nutrients, and I'm delighted knowing that she enjoys getting her daily dose of vitamins. Anything to keep her tail wagging and immune system at its fur-ocious best. Dakota gives these multivitamins two paws wayyy up!

Eric S.

Verified Reviewer

Senior Dog Approved!

My vet recommended I start my senior husky on a multivitamin and they suggested we try this brand. Denali seems to really like them, we've made it our little morning ritual, I drink my coffee, she gets her multi. So far she seems to have a little more pep, and definitely views them as a treat.
Reviews Loaded
Reviews Added
FAQ about Multivitamin
What age can my dog start using Multivitamin?

We recommend starting our Multivitamin on dogs older than a year. But as with any supplement, always consult your veterinarian prior to use.
What flavor are the Multivitamin chews?

Our Multivitamin chews are peanut butter flavored! With all of our products, the flavoring comes from all-natural, vegetarian flavoring so there is no concern with meat allergies or sensitivities!
Can Multivitamin be given to cats?

No, our Multivitamin chews are designed for use in dogs only.
How many chews should I give my dog?

Up to 60 lbs: 1 chew per day
Over 60 lbs: 2 chews per day
When should I see an improvement?

We recommend giving them to your dog for 2-3 weeks to begin seeing noticeable improvements.